Add ribbons to your hairstyle this summer!
Ribbon hairstyles
Ever thought about adding ribbons to your hairstyle? Has that ever crossed your mind? When I was younger I used to put shoe laces in my hair, but I never thought about ribbons. Ribbons come in many different colours: red, pink, blue, green and the list goes on. That means that having ribbons in your hair can match with any outfit you had in mind!
Ribbons with your afro puff
You can use the ribbons as a headband so it can push back your afro. This will jazz up the hairstyle and put a twist to the classic natural hair hair style. Having this style in can really inspire others. This hairstyle is also great on children – typically used for weddings or special occasions. Ribbons are pretty versatile.
Ribbons plaited into your hair
If you thought the above idea was revolutionary, wait till you see this one. Adding ribbons to your plaits can also give you hair some life and some diversity. It's a gamechanger, essentially. Next time you add braids to your hair, think about ribbons to make your look a little more unique and funky.
Feed ribbons into your hair
You can single braid ribbons into your hair, but you can also feed the ribbons. What I mean by that is, as you are cornrowing, you are adding ribbons! Another funky idea to spice up a regular looking hairstyle.
Adding the ribbon to a ponytail
This style may be used mostly with little girls, especially at weddings. Nonetheless, the hairstyle is very cute. You put your hair in a ponytail (high or low) normally. And then add the ribbon over the hairband, create a bow and there you have it. A cute little hairstyle that takes seconds to do.
Adding the ribbon at the end of a French braid
For this style, you will French braid your hair as normal and at the end of the braid add a ribbon to give it that flair. This hairstyle will definitely be used if you really and truly feeling fancy.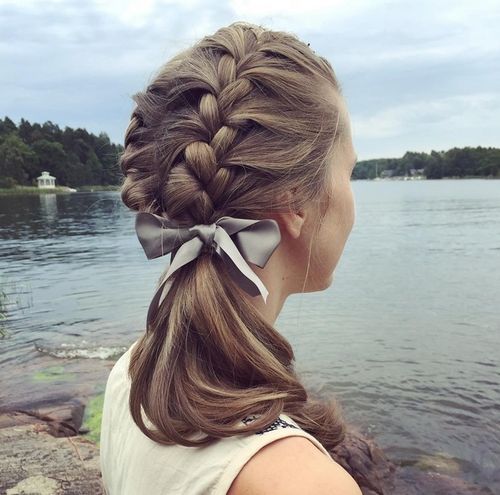 You can find ribbons HERE on garmentborders.com